I am so sorry I have not been keeping up with my blog as much as I should. I have been so busy I have not even had the time to post pictures. So now I will share with you a few of the cakes and cookies from this month.
The last week of February and first week of March are two very important birthdays. Since my sister-in-law's and my husband's birthdays are only a week apart we decided to celebrate at the same time. This was the norm for my husband and his sister growing up.
Every year I always make my husband a special cake. One year it was a UFC octagon, another a black ops cake, and last year Luigi. Usually I come up with the theme but this year I asked him if he had any special requests. He said he wanted a cake designed like one he had when he was a kid… half Scooby-doo for him and the other half Strawberry Shortcake for his sister. I had to stick with the 80's style strawberry shortcake of course! It was so wonderful making this cake because the whole time I was piping I could just hear one of God's angels, my dear mother-in-law, say "That is so cool!" lol. She said that so often so I can still remember her voice and expression. Love moments like those. : ) This cake celebrated two very important birthdays perfectly and brought back some wonderful memories of my mother-in-law.
The next week I was asked to make my grandma's yummy festive strawberry cake with a strawberry buttercream fill with the new strawberry shortcake design. Strawberry shortcake is a popular gal this month!
Another customer request was a number five cake for her son. I couldn't just do a plain five, so I designed it with his favorite show, The Last Airbender.
I even had a few first birthday's. One was for a little boy who's parents are big, and I mean BIG, LSU fans. She wanted the cake to be yellow and purple tiger stripped inside, purple and yellow buttercream outside, and then have the LSU tiger mascot siting on top. I made this little guy out of fondant and hand painted his stripes. I hope little Beau had a blast smashing his cake! Hopefully no cake toppers were injured in the process. ; )
 Then there was the sweet little girl who loves owls. I even made cookies (but sadly didn't get a good picture).
Next was a baby shower cake with a Noah's ark theme. The gender was unknown so they went with neutral colors. My inspiration was the invitation below found on http://www.etsy.com/shop/TamilynGardnerStudio.  The cake was festive strawberry with cream cheese icing and buttercream piping.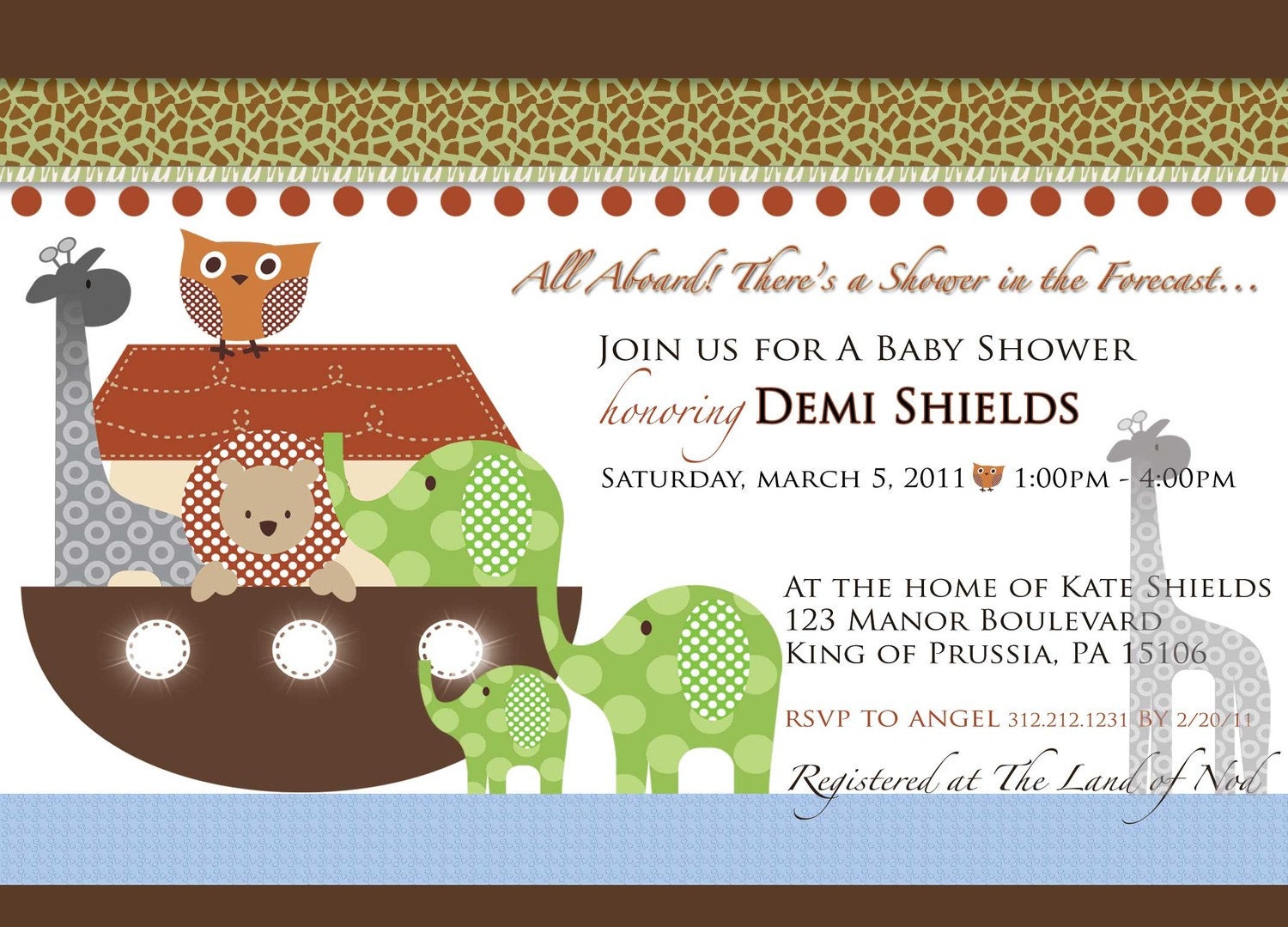 A customer was throwing a big party for her quadruplets… two boys and two girls. The theme was the absolute cutest! She went with trains and tiaras! So I made some train and tiara cookies per her request
So that just about wraps up two weeks! Now on to Easter cookies!